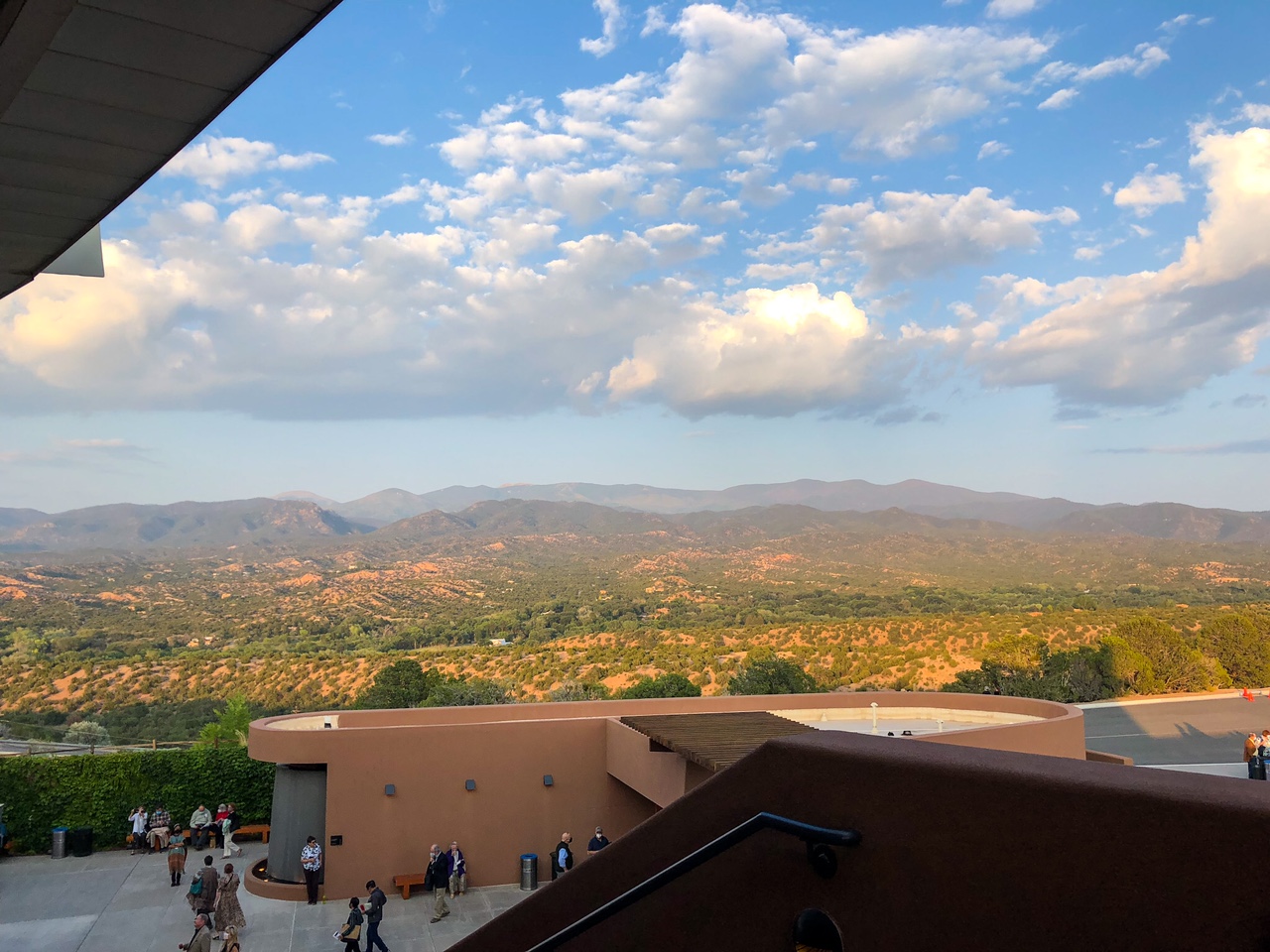 August Wrap Up
New Mexico, Research Woes,
and Some Very Good Books
I thought that instead of only doing monthly reading wrap ups, I would wrap up the month in general, including travel, reading writing and listening. So here's my August wrap up!
What I Saw
This month my boyfriend and I visited Santa Fe with my parents. We saw the Georgia O'Keefe museum, went hiking, and attended the opera in Santa Fe's beautiful outdoor opera house. Honestly the best part was the amazing 75 degree weather, and seeing mountains everywhere we went. Not to mention the beautiful vacation home of a family friend where we stayed, with a lush garden buzzing with hummingbirds.
SantaFe – attractions for the hummingbirds
What I Wrote
• In August I made it to around 13,000 words in my current work in progress. I've done some bare bones initial research, but my plan is to finish the first draft and then spend a couple of months doing a deep dive into all things Renaissance in order to a) avoid info dumping in the first draft and b) to make sure I don't get so bogged down in the research that I never write the thing! The only problem with this plan is that I'm stumbling across some subplots that I initially wanted to include, but I'm currently not knowledgable enough about every day life in 16th century Florence to write them. I've been getting stuck a lot, but when I do I've been trying to just put down the bare bones of the scene and move on to the next one. Right now, forward momentum is the most important thing.
• I was rejected from my first ever writer's residency application! This is cause for excitement because for the longest time I didn't apply to writing residencies because I didn't feel qualified enough, or I was convinced they were only looking for published authors. Even though I didn't get in this time, I'm still proud of myself for applying. Not only that, but submitting the application got me fired up about writing again, and spurred me to work on my novel even more. So if you're feeling stuck, I highly recommend finding some opportunity to apply to. It just might spark your love of writing again.
• I started a writing accountability group with a few friends! This whole writing thing can be a lonely occupation. I've been wanting to find a low key writing group where we can share our writing goals, commiserate over rejections, and just generally cheer each other on, so I figured, why not start one? So far it's been low key, pressure free, and extremely wholesome. 🙂
In August I made it to around 13,000 words in my current work in progress.
What I read
I Love you but I've Chosen Darkness by Claire Vaye Watkins
Summary: A woman (who happens to also be named Claire Vaye Watkins) leaves behind her husband and baby to return to her childhood home, but running away from her life isn't the escape she imagines.
Review: I truly wanted to love this, because I adored Watkins' first novel, Gold Fame Citrus. Unfortunately this book fell flat for me – the plot felt disjointed and aimless, and while the writing was still beautiful in places it didn't have the lushness and magic that first book had.
*3 Stars*
Reputation by Lex Croucher
Summary: When Georgiana Ellers is sent to live with her aunt and uncle for the summer, she fears long, tedious days of going to provincial tea parties with her relatives' dreary friends. But then she meets Frances Campbell, a wealthy socialite who sweeps her up into a whirlwind of glamorous parties, drunken debauchery, and Regency excess.
Review: I had high expectations for this book: I wanted a fun, Regency romp that was perfectly balanced between historical accuracy and modern sensibilities. Well I'm happy to report that this book delivered all that and MORE, complete with complex, interesting characters, a diverse ensemble cast, witty banter, and a line about cheese that made me laugh out loud. This book made me laugh and cry literal tears, once when a character was recounting a tragic backstory, and once from sheer joy at a particularly wholesome moment. I cannot recommend this book enough! * 5 Stars!!*
The Wood Wife by Terri Windling
Summary: Maggie Black is a poet still living in her musician ex-husband's shadow. When her mentor dies under mysterious circumstances, and leaves her his house in the Arizona desert, she sees it as the opportunity she always wanted to write his biography. But both her mentor's life, the desert, and the creatures that inhabit it are a mysterious, magical puzzle all their own.
Review: I read this while on vacation in Santa Fe, and it could not have been a more perfect vacation read. The magic of the desert was heightened the whole time I was reading this book. It's immersive and entertaining, and wile it does feel a little dated, I'm so glad I picked it up when I did.
*4 Stars*
Links for authors mentioned above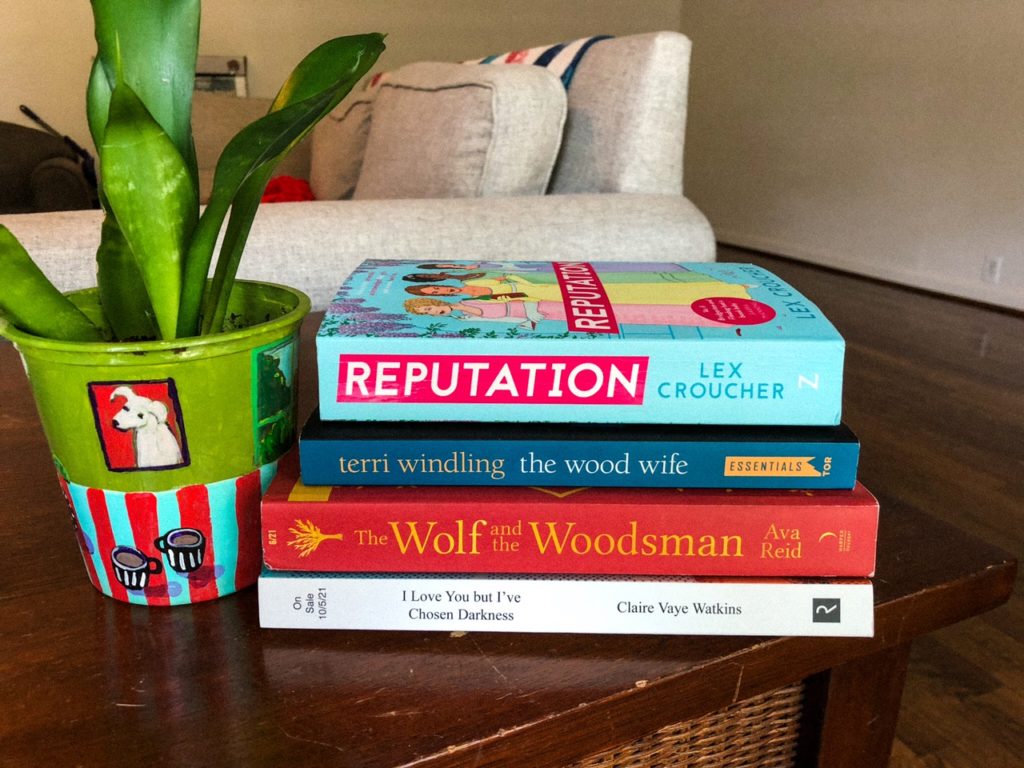 Reputation made me laugh and cry literal tears. A line about cheese made me laugh out loud.
The Wolf + the Woodsman by Ava Reid
Summary: Every year the Holy Order of the Woodsmen come to Evike's pagan village and take one of the women back to the capital with them, never to be seen again. When Evike is taken, she must fight for her survival and the survival of her way of life.
Review: This is a rich, complex fantasy novel based on Hungarian history and Jewish folklore. It felt like a dark fairytale shot though with the very real themes of empire building and religious extremism. It's got religion/story-based magic, an enemies to lovers romance that felt perfectly calibrated, and quite a bit of gore (but nothing I couldn't handle). I'll definitely be reading more from this author in the future!
*4 Stars*
What I listened to
Woman on the Internet, Orla Gartland
I've been a fan of Orla Gartland since she was playing covers on her bedroom floor and posting them to Youtube. She recently released her first full length album and it is just *chefs kiss* I love her music because almost every song is a certified bop, but the lyrics are so clever and well-executed that I'm in awe of her writing as well. I've pretty much been listening to Woman on the Internet on-repeat all month and it has made my life infinitely better.
What I Watched
I discovered Allyvee in August, and my life hasn't been the same since. She is a woman living in Belgium who posts perfectly edited, aesthetic-but-still-down-to-earth videos about books, cats, plants, and her day-to-day life. Her videos are little cinematic masterpieces, her book reviews are thoughtful and intelligent, and she just seems like such a funny, grounded, interesting person. If you're in need of some very wholesome book content, I can't recommend her channel enough!
Phew! That's all for the month of August! How's your writing going? What have you been reading lately? I'd love to know!